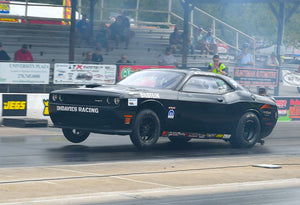 2021 Holley MoParty
Beech Bend Raceway was once again hosting the Holley MoParty event in '21 and it fit nicely in the schedule to get some much-needed testing done prior to heading to St. Louis for the NHRA MidWest Nats.
MoParty is always a good time even with a little weather this year it didn't disappoint.  A brand-new car needs some track time to work things out and that's exactly what the plan was for Kentucky.
With the team for Wesley Motorsports on hand we spent a lot of time collecting data and making small adjustments to the Bilstein suspension. 
While a couple of the passes resulted in slips off the line that was part of the testing and by the end of the weekend, we were much closer to a dialed in suspension package as we headed into St. Louis.
---