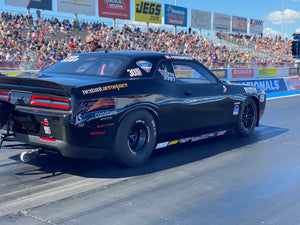 2021 NHRA Midwest Nationals
With a much-improved outing at Indy behind us we motored the team motored into St. Louis with confidence that we were heading in the right direction.


St. Louis has always been good to us and we felt confident that we could improve on our showing at the US Nationals in Indy.
A decent Q1 pass put us safely in the field and gave us the option of turning things up a little for the next two passes.
We did that in Q2 but maybe a bit too much and the car made a move to the center lane which we had to correct.


Adjustments made, and a solid Q3 put us in the fast half of the field heading into eliminations on Sunday.Round 1 has us going up another Dodge Challenger and the always fast Joe Welch.
A quick reaction time gave us a .006 hole-shot win and the team's first round win of the series.


Moving on to RD2 saw us up against Mark Pawuk.  Mark's .008 light was enough as he moved on.
---