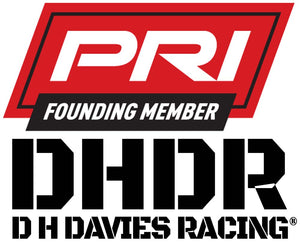 D H DAVIES RACING® JOINS NATIONWIDE MOTORSPORTS ALLIANCE
PRI Founding Membership Demonstrates Leadership and Commitment to Racing Community


CLEVELAND, OH (February 14, 2022) --- D H Davies Racing® is demonstrating its commitment to protecting the future of racing by becoming a PRI Founding Member. Performance Racing Industry (PRI) Membership unites the worldwide racing community and is critical to ensuring a bright future for racers. The organization is dedicated to addressing challenges and needs, such as providing support for racetracks to prevent them from closing, advocacy for the racing community against current legislative threats, and educational programs that help businesses and racers succeed. No other organization brings together and advocates on behalf of the entire racing community.

As a PRI Founding Member, David Davies and DHDR are asserting their dedication to the motorsports industry. Founding members represent leading businesses and individuals that play a critical role in building, promoting and protecting the industry.

"I am in a unique position of touching every corner of the racing community as a sponsor, competitor and fan" said Davies, CEO of Constant Aviation and driver of the D H Davies Racing Factory Stock Mopar Challenger Drag Pak. "I have a passion for racing from behind the wheel and in the corporate community. Working with PRI is critical to the continued growth of racing around the world. I am excited to be a Founding Member and look forward to the future."

More than 400 businesses and over 35,000 individuals have joined as PRI members since debuting in March 2021. Founding membership is a multi-year commitment and represents the highest level of dedication to motorsports.

"We're grateful to David and D H Davies Racing for stepping up as a PRI Founding Member," said PRI President Dr. Jamie Meyer. "PRI Founding Members are the backbone of the motorsports industry and they play a critical role in our mission to build, promote and protect the racing community."

D H Davies Racing currently fields a 2021 Dodge Drag Pak racing in the NHRA Constant Aviation Factory Stock Showdown class in addition to development projects for cars in other series/events. Davies is also the CEO of Constant Aviation which specializes in aircraft and engine maintenance, major repairs, avionics, interiors and paint. In addition, it offers mobile response services through its AOG division, and engineering, accessory and composite services through its Nextant Aerospace division.

To learn more about D H Davies Racing, visit dhdavies.racing and follow us on Facebook, Instagram, and Twitter. For more details about PRI Membership, including other categories of membership such as individual membership, visit performanceracing.com.
Contact:
Elon Werner
Werner Communications
214-244-118
T: @elonwer
elon@elonwerner.com
---