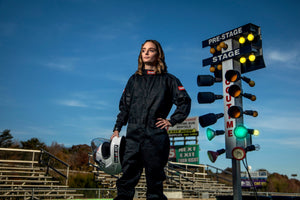 Madi Turley Named First DHDR Developmental Driver
CLEVELAND, OH (February 27, 2023) --- At the end of January during the CompetitionPlus.com Power Hour podcast David H. Davies, owner and primary driver for D H Davies Racing® (DHDR) spoke about his plans for a driver development program that would extend beyond NHRA national and divisional events. The first driver to join the program is 16-year-old Madi Turley, also known as Mopar Madi, from Rutledge, Tennessee. Turley is currently campaigning a 2012 Dodge Challenger R/T with plans to move up to Flexjet Factory Stock Showdown class. After high school graduation she hopes to study auto mechanics at Tennessee College of Applied Technology (Morristown).

"I was fortunate to meet Mopar Madi through some mutual Mopar racing friends and once I heard her story, I knew I had to get involved to assist her in pursuing her dream," said Davies. "I have wanted to build a driver development program for some time and Madi is the first of many drivers who will be a part of the DHDR developmental program. I am talking with several other drivers beyond door-slammer racers. Madi is an amazing young lady and I wanted to give her every advantage to chase her dream. She has shown great determination, passion and skill behind the wheel already in her young career."

Through the DHDR developmental program Madi has been able to connect with E3 Spark Plugs, AJ Berge and Hemi Tuner for tuning assistance, and Wesley Motorsports for suspension support. Davies is also providing additional support to keep Turley's program moving forward.

"I have tried just about every sport, but I have always loved drag racing," said Turley. "Some of my favorite drivers are Clay Millican, Leah Pruett, Matt Hagan, and a lot of the Factory Stock guys like Geoff Turk, Mark Pawuk and of course David Davies. I have been blessed by God and I want to use racing to tell people how fortunate I am. I really shouldn't be alive, but I am out here racing and following my dream because of God. I can't thank David Davies enough for giving me this opportunity."

Turley, how overcame a litany of medical conditions that threatened her life daily following her birth at 24-weeks, will be racing at a variety of events throughout the 2023 season primarily focusing on bracket races at Cherokee Race Park, Rockingham Dragway, Beech Bend Raceway, and London Dragway (London, KY). Through the DHDR development program Turley will also be invited to various NHRA national events as her schedule allows. She has already appeared on the cover of Chrysler Power magazine, been profiled in the Grainger Today newspaper and was recently interviewed by WVLT TV (Knoxville, TN).

"My goal with the DHDR developmental program is to encourage young drivers and mechanics to get involved in drag racing and to support them as they pursue their dreams. We are just getting started and will have more drivers to announce throughout the season. We started conversations at the end of last season and at PRI in December, so things are starting to come together. We are excited to announce Madi and this is just the beginning," added Davies.

The DHDR Factory Stock program will hit the track for the first time this weekend at the World Series of Pro Mod March 3-5, at Bradenton Motorsports Park followed by the first race of the Flexjet Factory Stock Showdown Series, March 9-12 at the NHRA Amalie Motor Oil Gatornationals at Gainesville Raceway.

About DHDR
An accomplished business executive and US Air Force Veteran David Davies brings his passion for racing and competition to the Flexjet Factory Stock Showdown Series. Last year Davies finished in the Top Ten in the Flexjet Factory Stock Showdown Series. This season Davies will continue to raise awareness for Save Our Allies (www.saveourallies.org) a non-profit organization that rescues American Citizens, Permanent Residents, SIV Holders, and other special populations from conflict zones and contested areas around the world as well as representing E3, Welsy Motorsports, Fig Leaf Coffee and Air Culinaire. Davies has raced in both the National Muscle Car Association (NMCA) and National Hot Rod Association (NHRA) with both a 2018 Dodge Demon and most recently a 2021 Dodge Drag Pak. Davies' NHRA debut event was Norwalk, 2021 and since that event the racer from Kirtland, Ohio, has been a regular qualifier and is pursuing his first Flexjet Factory Stock Showdown Series national event win.
---